Legal assistance for
foreigners
Entrusting us with your affairs, you can be sure that we will take care of all the formalities providing our clients with peace of mind and free time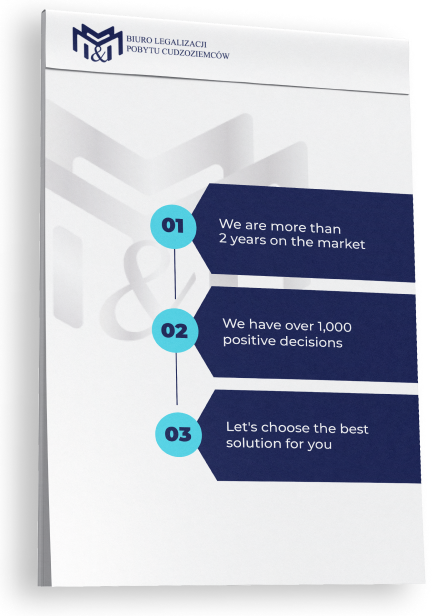 Strengths

of our company
EXPERIENCE AND COMPETENCE
We have been on the market for more than 3 years, we employ people graduated from Polish universities, who know all the intricacies of Polish law as well as dealing with documents and offices in Poland.
SPEED AND MINIMIZATION OF RISK
Our qualified staff of lawyers will quickly and efficiently deal with the most complicated cases. In our law firm there is no situation without a solution for us, we will try to find a solution for you even in the most difficult situations.
INDIVIDUAL AND PROFESSIONAL APPROACH
We will help you with any legal issue, we handle the most complicated legal cases and have a lot of experience in it.
A few words about M&M

Office for legalization of stay of foreigners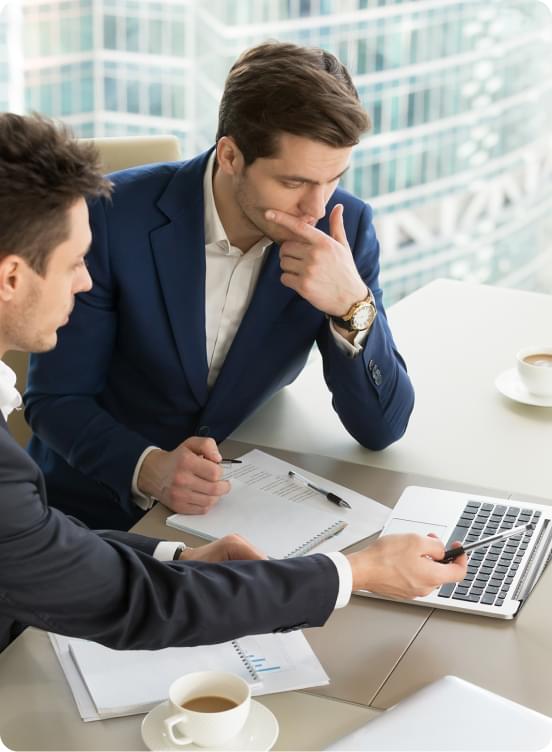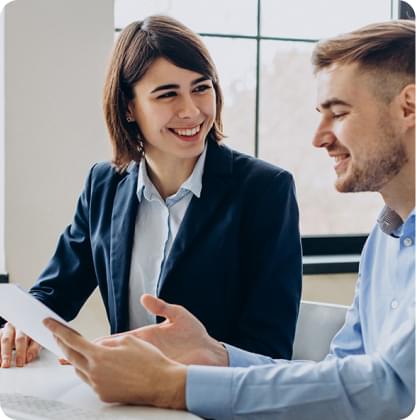 M&M Bureau for legalization of stay of foreigners Sp z o.o. was established in response to the various needs of foreigners. We specialize in providing comprehensive legal services to foreigners in the process of legalizing their stay. We assist our clients in choosing the appropriate basis for obtaining residency, complete the documentation and accompany at every stage of the legal process needed to obtain legal residence . We also offer legal assistance in obtaining work permits and advise employers who hire foreigners.
Lawyers working in our Office are graduates of Polish universities in the field of law. Our lawyers have many years of experience in immigration, administrative, commercial, criminal and civil cases.
For pending proceedings, we comprehensively prepare and review documentation, initiate proceedings and everything necessary for the case. We take care of the timeliness of the submission of applications, monitor and respond on an ongoing basis to requests from the authorities to complete the documentation. While conducting the proceedings, we analyze a number of options to ensure a positive outcome.
Frequently asked questions
Our services include: legalization of residence of foreigners, legal advice, representation in court, drafting and reviewing of contracts, legal assistance in real estate, company law, registration and business support in Poland and much more.
We have extensive experience in the legal field and have worked with passion for many years. Clients who approach us trust us because they know that we only provide correct and reliable information.
We are based in Warsaw, but work remotely throughout Poland. If you do not live in Warsaw - please feel free to contact us online.
Our consultations are for: ⁃ Persons who want to obtain a Residence Card / Pole / Citizenship ⁃ Employers who employ foreigners - Those who want to legally work and live in Poland.
These are just some of the additional services we provide: - We translate documents - We create bilingual powers of attorney We assist in: - Select the insurance policy necessary to obtain a residence card; - Obtain a permit to purchase real estate for foreigners - Obtain a permit for foreigners wishing to start a business in Poland.
If you have any questions please contact us
Enter your phone number next to it
Follow us on
on social networks
We constantly publish up-to-date information, keeping abreast of the dynamically changing legislation