Legal assistance to
foreigners
Full service of your documents from A to Z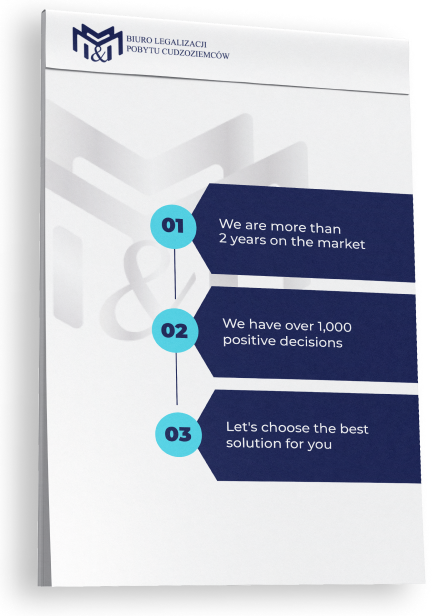 Advantages

of our company
INDIVIDUAL AND PROFESSIONAL APPROACH
We will help you in any legal matter and you will not need to worry about your documents
FAST AND RISK MINIMIZATION
Our highly qualified lawyers handle the most complex cases quickly and efficiently. In Poland, there are no hopeless situations for us
EXPERIENCE AND COMPETENCE
We have been on the market for more than 2 years and also, we employ people who graduated from Polish universities, who know all the intricacies of working with documents and government agencies
A few words about the M&M

Bureau for the legalization of the stay of foreigners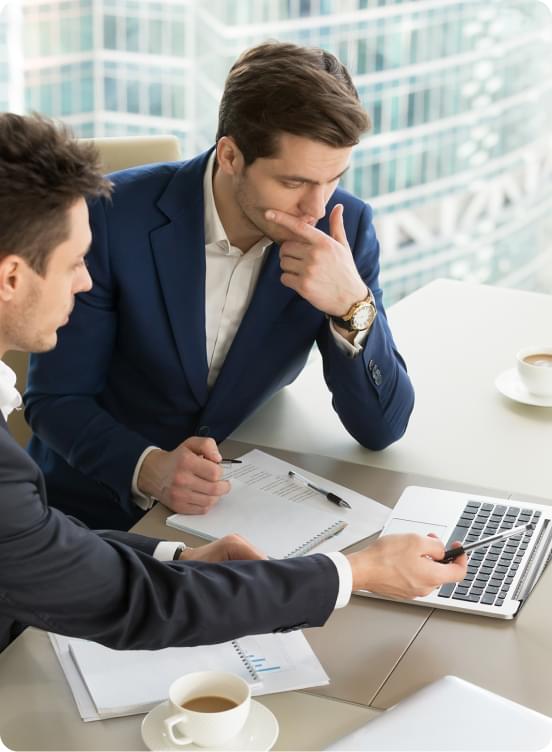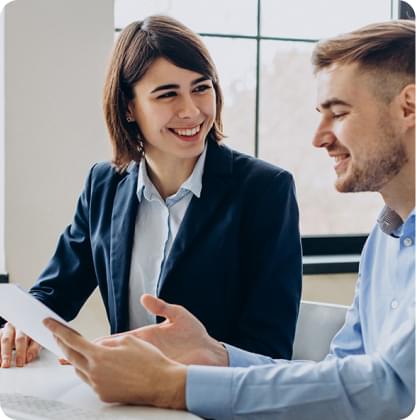 M&M Biuro Legalizacji Pobytu Cudzoziemców Sp. o.o. was created in response to the various needs of foreigners. We specialize in comprehensive legal services for foreigners who are trying to get a positive decision regarding the legalization of their stay in Poland. We assist our clients in choosing the right base for their stay, completing the documentation and accompanying them throughout the process. We also offer legal assistance in obtaining a work permit and advise employers who employ foreigners.
The lawyers working in our office have graduated from Polish universities in the field of law. Our lawyers have many years of experience in immigration, administrative, commercial, criminal and civil law cases.
For the purposes of ongoing proceedings, we comprehensively prepare documentation, evaluate documentation, prepare letters of initiation of proceedings and everything necessary for the conduct of the case. We care about the timeliness of filing applications and respond to requests from authorities to complete the documentation. In doing business, we prepare the client for a range of possibilities and provide judgments about the expected outcome.
FAQ
Our services include: legal advice, representation in court, drafting and reviewing contracts, legal assistance in real estate, family and inheritance disputes, corporate law, tax law, legalization, registration and support of business in Poland and much more.
We have considerable experience in the legal field, and we have been working with pleasure for many years. Clients who come to us trust us, because they know that we only provide accurate and correct information.
We are based in Warsaw, but we work remotely all over Poland. If you want to apply from locations other than Warsaw, we invite you to an online consultation.
Our consultations are for: ⁃ Those who want to get a Pobytu/Poland card ⁃ Employers hiring foreigners ⁃ Those who want to work and live in Poland legally
This is only a part of additional services we provide for your legal stay in Poland: - We translate documents - We create bilingual power of attorney - We help you with: - Choose the insurance policy necessary to obtain a residence card; - Obtain a permit to purchase real estate for a foreigner; - Obtain a license for foreigners wishing to start a business in Poland.
Сall our number urgently
Enter your phone number next to it
Follow us
on social networks
We constantly publish relevant news so that you can follow our dynamic growth